Kayla Robison: Arnold's Bar and Grill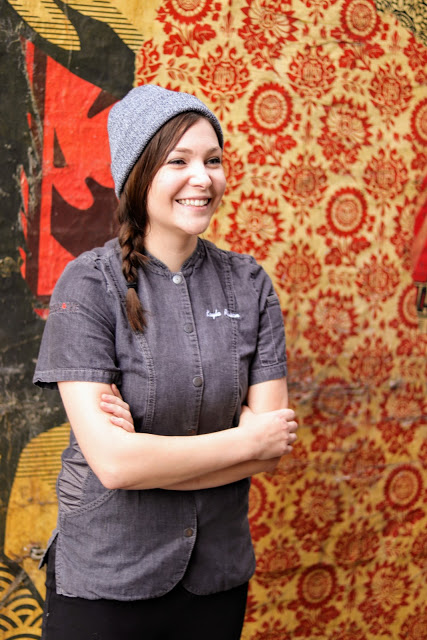 Last week we hung out with Chef Kayla Robison of Arnold's Bar and Grill. This place is over 150 years old! Filled with all kinds of interesting signs, art and an interior patio, where you can get all kinds of good eats and drinks. Don't let her small stature fool you though, she's got big things cooking. See what I did there? She's got big things cooking. . . . . cause she's a chef and she's little. *crickets chirping* Alright alright, keep reading for the interview.
Name: Kayla Robison
Business: Arnolds Bar and Grill
Title: Executive Chef (I hate being called chef)
Time in industry: 14 years
1. What led you to be in the food industry?
The first day I got my temps (I was 14) I crashed a car. Had to get a job the next day to pay for it! (And to pay for new plates because my dad broke almost every plate in the house after I told him what happened)
2. What is your signature dish?
I don't think I have a signature yet, but my favorite thing to make is something I've never made before!
3. You're a new addition to the crayon box. What color would you be and why?
Black because that's all I wear.
4. What's your favorite '90s jam?
I have a lot of favorites, but first two that come to mind is Bittersweet Symphony and Dreams by the Cranberries
5. What is your favorite local restaurant?
Depends what I'm craving. Baba India, Bangkok Bistro, PLT, Sotto... list goes on. Maybe I don't believe in favorites...
6. What is your go to late night snack?
7. Teach me something I don't know in the next five minutes.
I can teach you how to play a song on guitar, harmonica, or piano.
8. How many donuts are you capable of eating in one sitting?
Only half of one. I don't like donuts 😖 (I know I'm crazy)
9. How violently do you have to fight the urge to scream when you hear the ice cream truck coming?
My 8 year old does it for me now.
10. How long after you feel full do you keep eating for?
11. Where do you go in Cincinnati for your favorite dessert?
Aglamesis or Wyoming Pastry Shop
12. If I gave you $10 bucks to go buy me chocolate milk, and it only cost $3, would you bring me all the change or would you tell me it was actually $10? Because I'll know. I'll know chocolate milk doesn't cost that much.
I would bring you the change and a scratch off in hopes that you win big and can enjoy a lifetime of endless amounts of chocolate milk.