Tano's Tour de Loveland
Chef Tano's Farm to Table Dinner and City of Loveland Experience
Our whirlwind tour of Loveland started at Cincy Shirt Shop (the third retail location of Cincy Shirts) where we were greeted by Eddie Jiminez and Carol Pomponio. It's the place to go to purchase from their ever-growing selection of several Loveland-themed shirts, in addition to all the other cool Cincy-related merch sold at their other locales. It's also the only place on Earth to play the famed "Loveland Froggerman" arcade game. They say that in Russia, video games play you - well the same goes in Loveland, at least for me. By that I mean, I am no gamer. I am, on the other hand a guy that likes to keep his sock game fresh, so while we were there I seized the opportunity to add some stylin' Cincy 3-Way socks to my wardrobe.
Next we walked up the block to Plaid Room Records, where vinyl is king. Here you'll find pretty much anything you could want in terms of new and used records (20,000+ LP's on site!) spanning all genres - including Colemine Records own (Jr Thomas & the Volcanoes, Durand Jones & the Indications, Wesley Bright & the Honeytones + Cincinnati's own Barbara Howard to name a few). Between the knowledgeable staff and the listening stations, you're bound to find what you need. Terry Cole himself took us upstairs from the record shop to a cozy event space called "Tupelo House". Being the size of a small apartment, it's perfect for everything from off-site office gatherings to gender reveal parties and the like). Also upstairs we got to peek behind the scenes at the analog recording studio for aforementioned Colemine Records (the local soul/funk record label). Back downstairs we played a quick game of "Name That Band" by looking at only album cover art. I got a few correct, but the gentleman to my right new every one. A cool place to spend an afternoon, thumbing through old and new records in the midst of fellow audiophiles.
After that we walked to Narrow Path Brewing Company, Loveland's local brewery - right on the Little Miami Scenic Trail (aka "the Loveland Bike Trail"). They usually have ten or eleven beers on tap, plus three or four "experimental taps" of smaller batch delights. Whether you're into Sours, IPA's, Porters, or American Blondes - they got you covered. They also have an event calendar near the bar, showing which food trucks/pop-ups will be there for the month. Bartender, Chuck Luken (who calls me "the Hotdog Guy" for reasons I'll explain some other time) hooked us up with beer flights. Another cool thing about this place is that they support non-profit groups by sharing a significant portion of every dollar they earn with organizations who are working hard to affect change in the lives of people both locally and globally. There's something I can get behind. Not only does Narrow Path Brewing Company please the palate, it also nourishes the soul to know that my libations are helping to enrich the lives of others. That makes me feel awesome twice!
We then bounced over to Tano Bistro (our classy neighborhood farm-to-table restaurant), where we were seated in the upstairs dining room. Joining us at the table was Richard Stewart and Kate Cook of Carriage House Farm (a local source of whole and milled grains, honey, fresh vegetables, fruits, greens, herbs, and edible flowers) in North Bend, OH. They provided some of the ingredients for the delicious meal we were about to enjoy. Tano held court with us for a bit, providing a detailed breakdown of the menu for the evening, including where exactly the ingredients came from. We also engaged in Q&A session where we learned that he was once in a band, and that he started his culinary career working at TGI Fridays. What a down to earth guy.
We ended the night with a quick stop in the Loveland Sweets Shop. They specialize in house-made candies and ice creams created in small batches featuring premium ingredients as well as local dairy products and fresh seasonal fruits. They also have an assortment of novelty candy and gummies (gummy frogs, of course!).
All in all it was a great night in my hometown, and I think everyone should come visit; not only the places we went that afternoon/evening, but also to any or all of the other great places to eat, drink, and shop here in the Sweetheart of Ohio that is Loveland. Feel free to tell em Jim G. sent ya (that plus $1.29 will get you a cup of coffee at any gas station in Ohio).
-Jim G.


Disclaimer: I've lived in Loveland for several years. Everyday - rain or shine; armed with my camera bag - and red water bottle, I walk the streets of this little town, frequenting pretty much every place that sells something I can eat or drink. Just about anything you could ask for - a short seven minute walk from my own front door.
A special thanks to Molly McCafferty for the invite and for organizing this event. We very much appreciate the opportunity to have shared in this experience. A good time was had by all.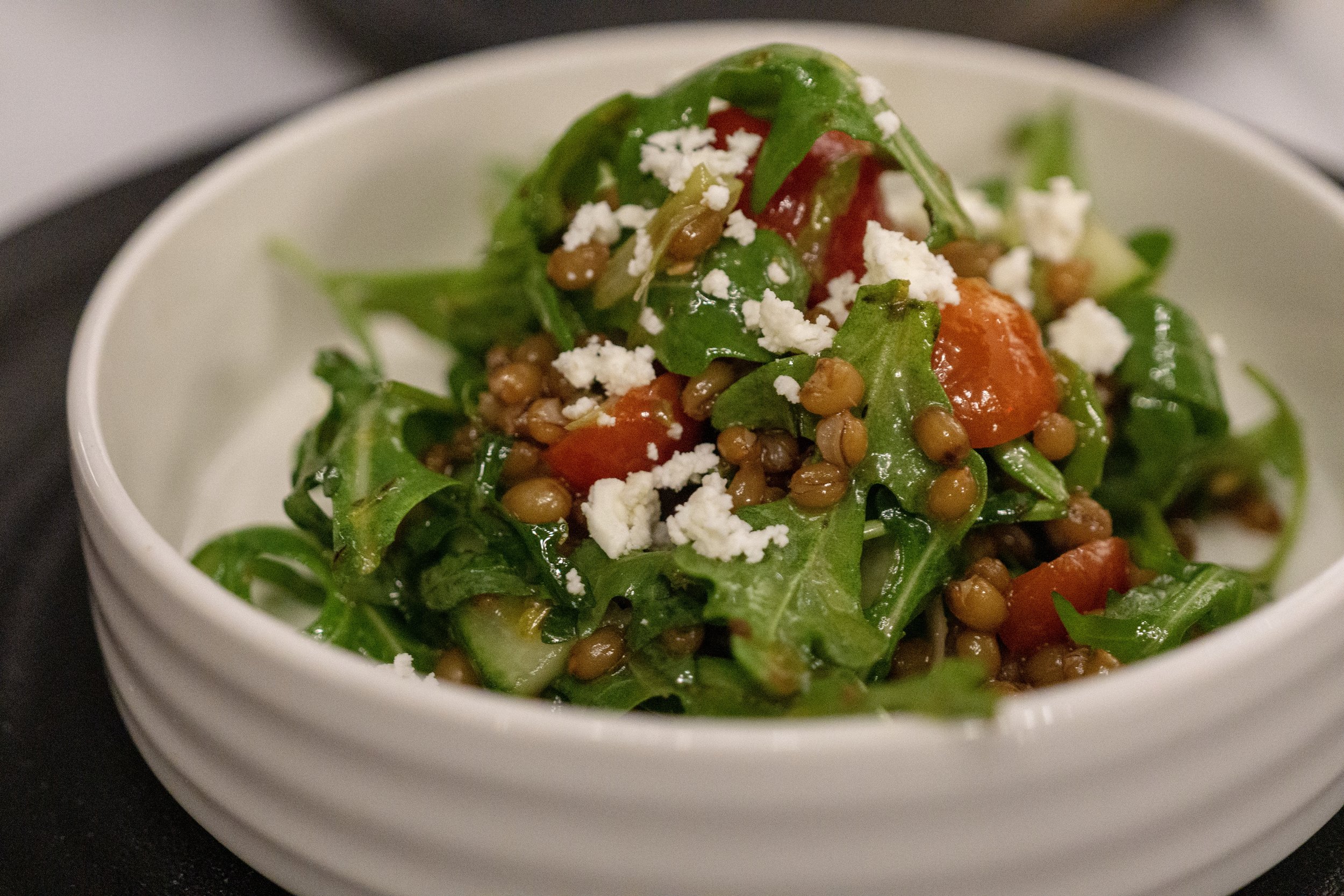 The Menu:
•Baked Brie - House foccacia, triple cream brie, + bourbon cherry & apple compote
•Mediterranean Wheat Berry Salad - 80 Acres Farms cherry tomatoes, cucumbers, scallions, feta, arugula, & Carriage House Farm red wine vinaigrette
•Duck Ragu- Cheese ravioli, smoked duck, pecorino, oyster mushrooms, & shaved black truffle
•Skuna Bay Stuffed Salmon - sweet crab, smoked bacon, brie, whipped potatoes, asparagus, & lemon beurre blanc
•Panna Cotta - Lemon bar, lemon chiffon cake, Carriage House Farm honey honeycomb, dehydrated raspberries, lemon urn, and raspberry sauce
Tano Bistro
204 West Loveland Avenue
Loveland Ohio 45140
Cincy Shirts Loveland
295 W Loveland Avenue
Loveland OH 45140

Plaid Room Records
Colemine Records
Tupelo House
122 West Loveland Avenue
Loveland, OH 45140

Narrow Path Brewing Company
106 Karl Brown Way
Loveland, OH 45140

Loveland Sweets
124 West Loveland Avenue
Loveland, OH 45140